Jay Shree Swaminarayan,
The 25th Utsav is almost here and preparations are underway! As you'd know a lot of seva will be needed during the Utsav and there are many areas where you can offer your service! Sign up using the button below and look out for more information! For those who have already signed up you will be hearing very soon from the departments!
Sign Up Now
Daily Darshan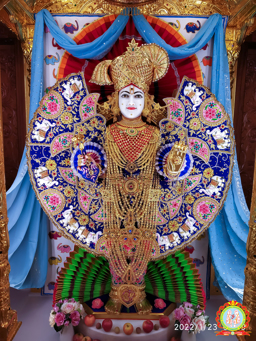 Opening times
| | Opening times | Aarti Time |
| --- | --- | --- |
| Mon - Sun [Morning] | 6:30-11:30 AM | 9:30 AM |
| Mon - Fri [Evening] | 3:30-8:00 PM | 6:00 PM |
| Saturday [Evening] | 3:30-8:00 PM | 5:45 PM |
| Sunday [Evening] | 3:30-8:00 PM | 4:30 PM |
Prathna Sabhas are held every Saturday between 5:00-6:00 PM
Sunday with Thakarthali and Festival Days with Special Evening Prayers the Aarti time is 7:30PM
Please note that on festival days the times may vary. Please contact the Temple if you need more information
Shikshapatri Shlok 191
Except in sheer emergency, my sadhus shall never go out alone at night, nor shall they go out alone at any time without the company of fellow sadhus. |191|

અને તે સાધુ તેમણજ્ઞે આપત્‍કાળ પડયા વિના રાત્રિને વિષે સંગસોબત વિના ચાલવું નહિ તથા આપત્‍કાળ પડયા વિના કયારેય પણ એકલા ચાલવું નહિ. |૧૯૧|
Read More
Special General Meeting
Jay Shree Swaminarayan,
Notice to Convene a Special General Meeting
Pursuant to Clause 10 (c) of the Constitution of Shree Kutch Satsang Satsang Swaminarayan Temple (Mandir) Temple (London)
The Secretary gives notice of a Special General Meeting of the Members to be held at:
Location: The Temple Sabha Hall on Sunday, 30th January 2022 at 5:00pm
Agenda:
1. Purchase of Hillingdon House as agreed within a Holding Trustees meeting, and thereafter at Executive
Committee Meeting.
Secretary,
For and on behalf of
Shree Kutch Satsang Swaminarayan Temple (London) Kenton, Harrow
Notice Announced & Displayed: Sunday 2nd January 2022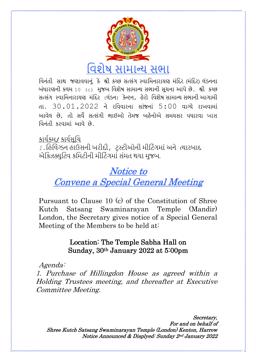 Memorial Abhishek
Jay Shree Swaminarayan
The Covid-19 pandemic has played a huge role in our lives and has taken many loved ones from us. Whilst SKSS Temple Kenton-Harrow is celebrating 25 years of Ghanshyam Maharaj's inauguration, we would like to give you the opportunity to honour your loved ones, whether they have lost their lives during the pandemic or not.
We are proud to announce the launch of our 'Memorial Abhishek' - a family-based ceremony taking place during our 25th Utsav. You and your family members will be able to do Abhishek of a downsized 3D Murti of our beloved Ghanshyam Maharaj whilst the pious 108 names of Bhagwan Swaminarayan (Janamangal Namavali) are recited by our young devotees. You will also be able to bring along a picture of your loved one so that you can place it nearby and capture a family memory that will last a lifetime.
Please use the link to sign up: www.sksst.org/memorial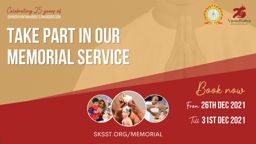 25th Utsav Yajman Registation
Jay Shree Swaminarayan,
25th Utsav Yajman Registation!
Typically, when a Temple celebrates a big Utsav, different Yajman Sevas are available, all with various price tags and usually the wealthy get this opportunity. However, our 25th Utsav is about everybody and this year, we have decided to keep a nominal figure of £251 for a Yajman and everybody will be valued the same, and you will have the opportunity to contribute towards all items.
Your Yajman pledge would go towards items listed below, but not limited to:
Airline tickets for Santos and Dharmakul
Daily Mahaprashad
Ankoot during the 1st of January
Gifts for Cultural Show, Band & Lazium and Yuvak Mandal Participant
Flowers used during the Utsav
Imagine that, you can become a Yajman and contribute towards all of this in our Grand Utsav, and more so group together with friends and family to contribute towards your pledge!
To register your interest visit sksst.org/yajman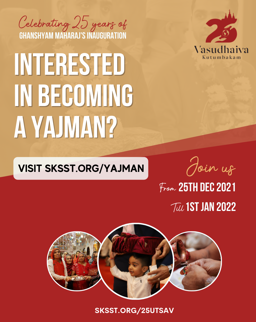 25th Utsav Programmes
Jay Shree Swaminarayan,
A wonderful week of commemoration, devotion, entertainment, prashad, music and unity awaits us as we edge closer to our 25th utsav.
Blessed with the presence of Bhuj Mandir santo's, we will delve into the divine Srimad Satsangi Jeevan katha each day accompanied by music, blessings and mini utsav's.
Everyday after katha, you will be treated to delicious mahaprashad and each evening will consist of a programme or utsav.
Click on the image to take note of the events taking place and we look forward to welcoming you as we celebrate 25 years of Ghanshyam Maharaj's inauguration.
#VK25 #VasudhaivaKutumbakam #Unity #JoinUs #SaveTheDates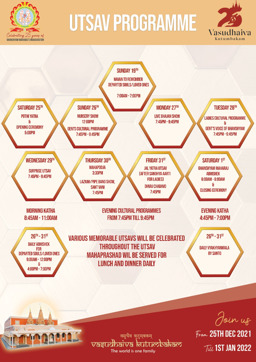 Covid Precautions
Jay Shree Swaminarayan,
See below document further highlighting key COVID procedures information in relation to prior to and during 25th Utsav as well as Samatva Shibir.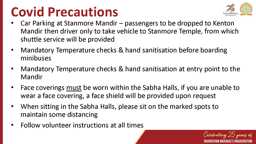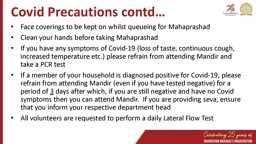 Health Check - Postponed Instead Covid Booster Vaccination
Jay Shree Swaminarayan,
We will be postponing the health check event till the new year as we understand our health care professionals will be required to provide their services for the NHS at this time of year.
Instead we will be running a covid booster vaccination drive to help vaccinate the community. We are sorry for any inconvenience. If you have signed up we will ensure to contact you once the date has been confirmed for the health check.
We'll be posting more details about the vaccination booster later today.
We thank you for your hardwork and understanding.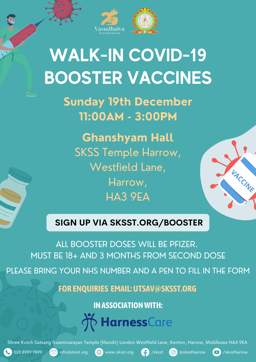 Laxmi Poojan
Jay Shree Swaminarayan,
On the momentous occasion of Diwali, we will be holding a Laxmi Poojan in the mandir from 7pm. For those partaking in the pooja at Mandir, the poojan items will be provided. Please bring the murti's, account book(s) and a red pen.
You are also able to join in the Poojan from home by joining us virtually. For those joining us virtually, the poojan packs can be collected from the Mandir today and tomorrow or you can refer to the poster for a list of the items required.
Finally, if you are joining us virtually, please have a printed copy of the sheet (second image) as it will be required in the poojan.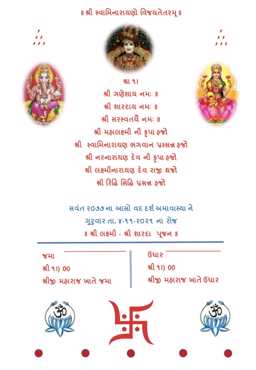 Diwali 2021
Diwali also known as the 'festival of lights', is a five day festival which starts on Dhanteras, followed by Kaali Chaudas, Diwali, New Years Day and ends on Bhaibeej.
Click here to read more about the celebrations of Diwali.
Click on the poster for more details