Daily Darshan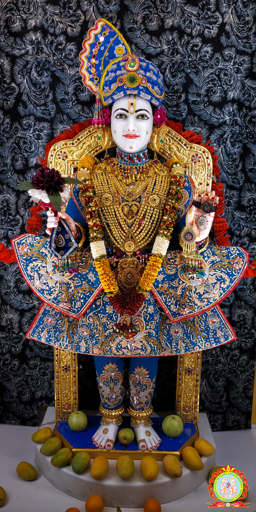 Opening times
| | Opening times | Aarti Time Online |
| --- | --- | --- |
| Mon - Sun [Morning] | 7-11 AM | 9:30 AM |
| Mon - Fri [Evening] | CLOSED | 6:00 PM |
| Saturday [Evening] | CLOSED | 5:45 PM |
| Sunday [Evening] | CLOSED | 4:30 PM |
Shikshapatri Shlok 2
I Sahajanand Swami whilst residing in Vadtal write this Shikshapatri for all my devotees residing far and wide. |2|

અને વૃતાલ્ય ગામને વિષે રહ્યા એવા સહજાનંદ સ્વામી જે અમે, તે અમે જે તે નાના પ્રકારના જે સર્વે દેશ તેમને વિષે રહ્યાં એવા જે અમારા આશ્રિત સર્વે સત્સંગી તે પ્રત્યે શિક્ષાપત્રીને લખીએ છીએ. |૨|
Read More
Calendar
Friday, 7th of May

Varuthini Ekadashi Fast

Friday, 14th of May

Akshay Trutiya
Parshuram Jayanti

Monday, 17th of May

Ramanuj Jayanti

Wednesday, 19th of May

Ganga Poojan

Sunday, 23rd of May

Rukmani Baras
Mohini Ekadashi Fast
More events
Family Art Attack
Jay Shree Swaminarayan!
Another month, another mini-utsav leading up to our grand 25th Utsav Celebrations this year!
Firstly, we'd like to thank you ALL for partaking in the Das Lakh challenge where we saw hundreds of people from around the world boosting their physical and spiritual wellbeing! We've not closed off this challenge just yet, so lets give the next few weeks EVERYTHING WE'VE GOT!
This month, we would like to introduce the 'Family Art Attack' activity with prizes to win for all participants not only in the UK, but worldwide!
It's now time for you and your family to get your creative armour on and build an architectural structure using recycled items only! It can be a Mandir, a famous landmark, a monument or a creation of your own!
Please see the full poster attached for more information on this months challenge!
#MiniUtsav #OneWorldOneTeam #LiveToServe #UnityIsPower #BhaktiYog #VibrateHigher #ThrivingTogether #GreenLiving #ConciousLiving #SustainableLiving #OneStepAtATime #LiveLearnInspire #GetInvolved #VasudhaivaKutumbakam #VK25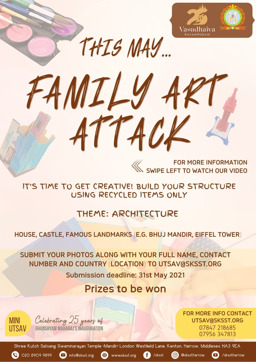 Ramnavmi/Swaminarayan Jayanti
Jay Shree Swaminarayan,
Join us on Wednesday 21st April 2021 as we celebrate Ramnavmi and Swaminarayan Jayanti. Ramnavmi (Chaitra Sud Navmi) is one of the most auspicious days in the Hindu calendar where we celebrate the birth of Lord Shree Ram and Lord Shree Swaminarayan, both whom arrived on the Earth to establish righteousness.
Midday marked the arrival of Lord Shree Ram who was born in the city of Ayodhya to King Dasharath and Queen Kaushalya. At 10pm in the village of Chhapaiya, Lord Shree Swaminarayan was born to Dharmadev and Bhaktimata.
Mandir will be open for standing darshan only, please see timings below;
Morning - 7AM to 12PM, followed by Ram Bhagwan's Pragatya Aarti
Evening - 6PM to 8PM, followed by Swaminarayan Bhagwan Pragatya Aarti
Please ensure to wear a face mask when entering the Mandir and follow all social distancing measures in place.
You can also enjoy the celebrations online by tuning into our live stream via sksst.org/stream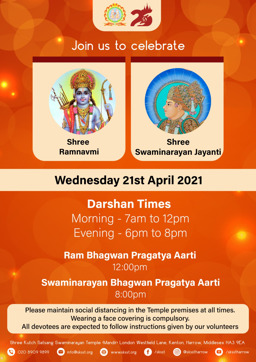 COVID-19 IMPORTANT UPDATE
Jay Shree Swaminarayan!
It is with great joy that we can announce that our temple will be opening from tomorrow; Monday 19th April.
Just like last time, the temple will only be open 7am - 11am. Please see the attached letter for more detailed information on social distancing, facial coverings and further guidelines.
Please kindly inform all your friends and family. We thank you for your continued support during these times.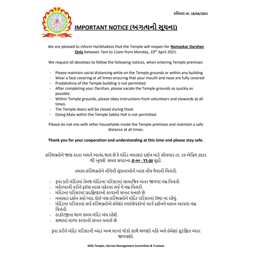 Shibir 2021 - Be The Impossible
Jay Shree Swaminarayan,
Given the circumstances and the uncertainty of the current situation, SKSS Temple Kenton Harrow has decided to cancel this years Shibir.
We know many of you were looking forward to the event and after trying every route to ensure its success, the health and safety of our haribhaktos is paramount and hence the decision has been made to cancel the event.
We apologise for any inconveniences and disappointment. In the meantime, enjoy the plenty of activities we have for you in relation to our 25th Utsav.
Stay safe and stay well.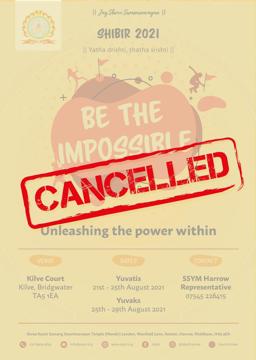 Das Lakh
Jay Shree Swaminarayan,
This month we're focusing on our bhakti and feeling instrictly and physically one with our beloved Ghanshyam Maharaj. We want the power and purity of Bhakti to shine across the world and of course, this isn't something we can do alone.
We're calling ALL Mandirs across the globe to join us! Though we may be separated geographically, we are connected by ONE and for His 25th, we're showing up for Him together, as ONE family.
We've made this as fast and simple as possible for you all! Just choose which niyam you'd like to pour your heart into for our Ghanshyam Maharaj. This could be 1, 2, 3 or all! Then fill your bhakti on satsang.sksst.org/MiniUtsav. The link will ask you for your name, the temple you attend and the niyams you choose. That simple! You can log your niyams daily, weekly or however you wish. You may even organise a time at your local mandir to collectively perform any of the bhakti niyams.
Just remember, bhaav is the epitome of Bhakti and the more you practice it, the more naturally it'll come.
We're looking forward to this one. Don't forget to send your photos or videos to utsav@sksst.org.
#BhaavNaBhukya #MiniUtsav #OneWorldOneTeam #LiveToServe #UnityIsPower #BhaktiYoga #VibrateHigher #DivineGuidance #Meditation #ThrivingTogether #VK25 #VasudhaivaKutumbakam #TheWorldIsOneFamily
If you're unsure how to carry out these niyams then see our tutorial video OR if you think that you don't know why we should do it or what benefit it brings - listen to the awesome Mahima talk by Balkrushna Dasji Swami.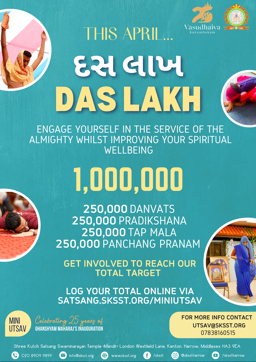 The Festival Series
Jay Shree Swaminarayan,
To celebrate our 25th Anniversary join us throughout 2021 for 'The Festival Series', as our young Yuvak's and Yuvati's narrate the essence of our auspiciously celebrated festivals and to be part of their world.
Every story will bring to you a moral that the children have gained from their understanding of the festival, through their imagination, along side some fun, laughter and inspiration from Maharaj's little helpers!
From the birth of Lord Swaminarayan, Lord Ram and Lord Krishna, Diwali, the history behind some of our scriptures including the Vachanamrut to India's Independence Day???? to Guru Purnima to name a few.
To take part in 'The festival series' please refer to the poster, to see how your children can participate – a not to be missed series!
Be sure to turn on your post notifications on so you don't miss it.
From our family to yours, let's get together and show unity through these festivals!
#VK25 #MiniUtsavs #VasudhaivaKutumbakam #Virtual #LoveOfLeelas #FutureIsBright #ShivratriSpecial #LordShiva #LearningHinduism #HinduFestival #YoungReaders #IndianCulture #IndianStories #LearningThroughPlay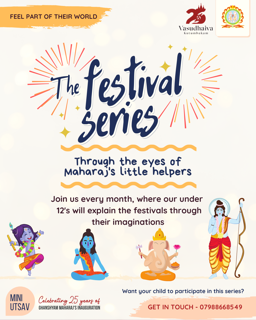 Maha Shivratri
Jay Shree Swaminarayan,
|| They shall devoutly observe the austerities on Ekadashi, Janmasthmi and other anniversaries such as Maha Shivratri and celebrate them with great reverence || Shikshapatri Shlokh 79
This Thursday we celebrate Maha Shivratri and honour Mahadev, the protector full of compassion and the destroyer of the sinful. Maha Shivratri celebrates the great night of Lord Shiva and his marriage with Parvati devi.
Our scriptures sing the praises of Lord Shiva such as in the Shikshapatri where Lord Swaminarayan mentions him frequently or in Vachanamrut Loya 1 where Lord Shiva is mentioned to be a master of Yoga.
Join us from 7.30pm for a virtual Shiv Poojan which will be followed by aarti.
Om Namah Shivaya!
#MahaShivratri #Celebrations #Mahadev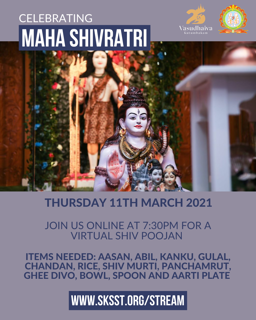 Brighten our World with Dhun
Jay Shree Swaminarayan,
"Brighten our World with Dhun"
A jam-packed year full of various activities for you to take part in and it all starts now. We want to kick off by getting you and your families involved in two activities outlined below!
1. Create a Candle display
It's been a tough year for us all and it's time to brighten up our lives and remove any darkness. Let your imagination flow and create a display using 25 candles together with your family to engage in some collective fun or to commemorate a lost loved one during this tough time. Have a look at some of the example videos to help spark your imagination.
2. Singing of the dhun
Bhajan bhakti is what unites us and keeps us strong during this difficult time. Let's all take part in our virtual dhun compilation. We need you to sing along to the example video whilst listening to it on a pair of headphones. Simultaneously, record yourself from ANOTHER device.
All recordings & pictures should be taken in Landscape. Photos and videos to be submitted to harrowsksst@gmail.com OR utsav@sksst.org by the 21st March 2021.
The journey towards our 25th Utsav has begun, but we can't do it alone. We need your help!
#VK25 #MiniUtsav #VasudhaivaKutumbakam #25Candles #BhajanBhakti #Virtual #Family #Rememberance #Celebration #FirstChallengeOfTheYear #SKSST